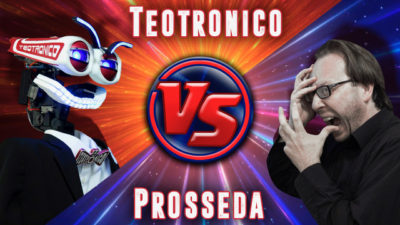 What is the difference between music reproduction and interpretation? What does "rubato" mean? What does "cantabile" means? Can a robot really make music with human musicians? In this unique project, a human pianist, Roberto Prosseda, challenges a robot-pianist, TeoTronico.
The two pianists will play the same pieces and the audience will notice how different they can sound, depending on the interpretation. The robot literally follows the indications in the score, without adding anything to it, while Roberto Prosseda adds what we call "interpretation". The two human musicians and TeoTronico will also discuss and debate their own performances, commenting and criticizing each other, in order to stimulate a better perception of the music from the audience. The debate on the role of the interpreter has been open for many decades. It has often been discussed how an interpreter can go towards a personal-creative-arbitrary interpretation of the score. This concert-challenge is intended to renew the piano recital format and to give the public more incentives for a conscious, critical and participative listening.
TeoTronico is an innovative and effective instrument of musical education and appreciation. It attracts young audience with its funny appearance and can introduce the founding elements of musical language to school students of any grade, in an immediate, engaging, entertaining way. TeoTronico can reproduce the fascinating vintage pianola rolls also in concert platforms, thanks its peculiar stage presence. It also has considerable potential as theatrical and television character.